Facet Feature Recipe: Annette's Thai Noodle Salad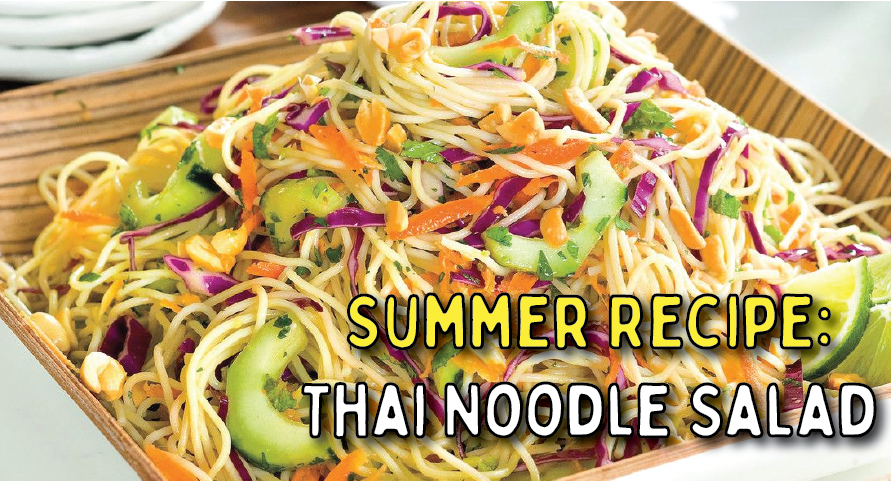 Recipe courtesy of Southern Living.
Ingredients
1 (8-oz.) package vermicelli
1/3 cup chopped fresh cilantro
2 garlic cloves, minced
1 jalapeño pepper, seeded and chopped
1/4 cup fresh lime juice
1 tablespoon fish sauce*
1 tablespoon honey
1 1/2 teaspoons sesame oil
1/4 teaspoon salt
2 carrots, grated
1 cucumber, peeled, seeded, and thinly sliced
1 cup finely shredded cabbage
1/4 cup chopped fresh mint
1/4 cup chopped dry-roasted peanuts
Directions
Cook pasta according to package directions. Drain, rinse, and place in a large bowl; set aside.
Process cilantro and next 7 ingredients in a food processor until smooth, stopping to scrape down sides.
Toss together pasta, cilantro dressing, carrots, and next 3 ingredients. Sprinkle with peanuts, and serve immediately.
Can substitute soy sauce for fish sauce, but the fish sauce makes the recipe more aromatic.
Facet Follies – September 2020

Facet Follies – August 2020
The Twitter Hack: Why Business Owners Should Care
If you've been anywhere near the internet or a newspaper in the past few days, you've no doubt already heard about the Twitter hack. Essentially, someone got access to the accounts of influential Tweeters and tried to pull off a poorly disguised Bitcoin theft scheme.
Most of the discourse I've seen around this concerns the harm that could have resulted if the hackers had decided to try something that wasn't a two-bit cash grab, and I won't deny that there are some scary hypotheticals there, but I'd like to focus on one major point that should matter to business owners.
Here's the thing: we know that the Twitter hack wasn't orchestrated by some shady group using brute force and other high-drama tactics. The Twitter hack only happened because an internal actor with "god-view" privileges and access to admin panels changed emails on high-profile accounts to allow the hackers access.
If you're a business owner, this should scare you, or at least give you some food for thought. I'm not a fan of using scare tactics to convince people to care about their network and cybersecurity, but in this case, I won't hold back.
Ask yourself: who has access to everything in my organization? Who can view or edit customer information, employee information, and all of my company's files? Who has admin rights? Who could, in theory, take my entire company down with them if their position were terminated or they were offered the right sum of money?
The all too common answer is, essentially, everyone in the company. Maybe even people who no longer work at your organization.
We often talk about "hackers" and "cybercriminals" and imagine shadowy hoodie-clad figures typing away on a keyboard in an unlit room, but 34% of breaches include internal users, and that's not counting the poor souls who clicked on a ransomware email link.
Would you give every employee a key to a safe holding all of your assets? We don't think of network access this way often, but the parallel is real. It's time to take a look at who has the digital "keys to the kingdom" of your organization and lock down the unnecessary files, folders, and other areas that aren't useful for day-to-day work, but pose a security risk.
Our customers are nowhere near the size of Twitter, but their data is just as important. Twitter has users' names, emails, demographic information, and a general idea of users' interests, but they don't have other sensitive information like credit cards, routing information, and tax information. Would your customers want that left in an open file cabinet that any of your employees can access?
Regardless of what your organization does, it's worth a look to see who can view sensitive information and data. You can't leave this stuff up to your IT folks alone—if you're a CEO or owner, you need to be aware of your vulnerabilities and how to fix them.
We recently started offering a service called the Facet Security Plus Audit, a comprehensive deep-dive into your company's cybersecurity position. Facet's Senior Network Engineer, Matt Ghiglieri, developed it along with other team members to specifically address our clients' needs and give them the information they need to make solid security decisions, including prioritizing areas of most concern. It's a brand-new way of looking at cybersecurity and we've received great responses to it so far. This service is available to both current and new Facet clients.
If you have any questions, or would like more resources and information on the Security Plus Audit, fill out our contact form or give us a call at (309) 353-4727.
Facet Follies: July 2020
Facet Feature Recipe: Jacob's Best-in-Show Apple Pie
This month's recipe is from our lead developer Jacob Scott! He's shared with us his best-in-show apple pie recipe!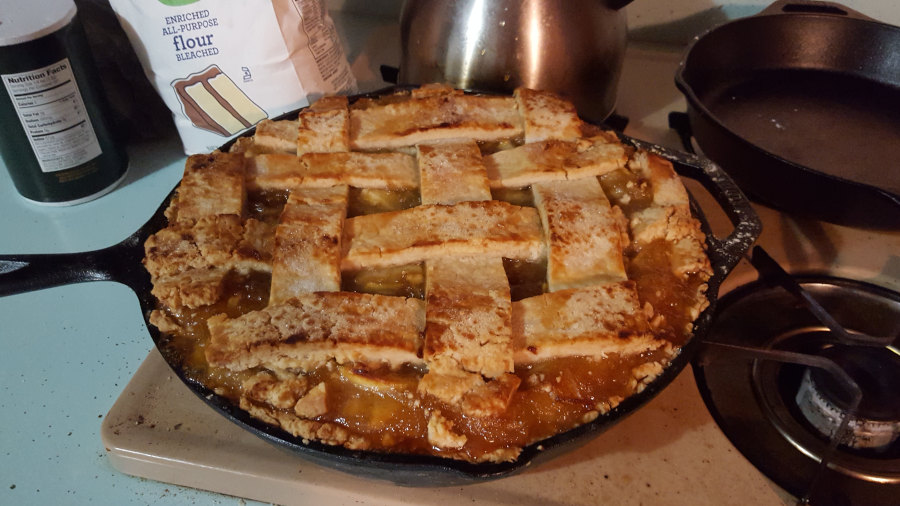 From Jacob:
"I like to dabble in various hobbies sometimes, and one of those is baking. Part science, part art, 100% edible!
"I started designing this recipe back in 2011 with a fairly simple goal: design an apple pie that was safe against my sister's lengthy list of food allergies, but also be succulent and avoid the "cardboard" texture you can expect from typical allergen-free foods. Oh, and I wanted to cook it in an iron skillet. I had to get a little creative at first but the pie quickly took on its own unique qualities. I have had several people declare it to be the best apple pie they've ever had, with its unique flavor, texture, and just all around melt-in-your-mouth goodness. I also took this pie to an amateur baking competition at a convention in Milwaukee in 2016 and won best in show – with a complement from John de Lancie to boot! You know, that guy who portrayed Q in Star Trek. That guy."
Recipe:
Jacob's Apple Pie

Allergens: Soy, Coconut (Optional), Gluten (You can get special flour to avoid that)
Friendly to Allergies: Corn, Milk, Eggs
Prep time: 3.5 hours
Bake time: 1 hour
Serves: about 6 or 8 people
This pie is an exercise in patience, but I promise you it's worth it in the end. You will need a sharp knife and the wherewithal to use it in such a way to not cut your own fingers. Trust me on this one – you will have a lot of apples to cut. A dull knife is much easier to hurt yourself with while skinning, but that doesn't mean a sharp knife is safe.
Crust:
· 2.5 cup flour with about another 1/2 cup for your working surface
· 1 tsp salt
· 1 tsp ginger
· 1 Tbsp sugar (or more, I've done up to 2.5)
· 1 cup chilled shortening, cubed
· About 8 Tbsp ice water
Crust Prep:
· Mix all of the dry ingredients together in a large bowl.
· Mix in the shortening well – you should get the overall consistency of the mix to be akin to small peas.
· Sprinkle in water 1 Tbsp at a time while mixing until you can just form a ball without any noticeably sticky parts. Don't try to guess this, take it as slow as you need and don't be afraid to add more flour. Most of the time you won't need all of the water, so don't try to use it all.
· Form two patties out of the dough of about the same size, and set aside to chill.
Filling:
· About 5 lbs of apples. When selecting apples, try to get about 1/2 sweet apples and 1/2 tart apples. In the variation I made for Ciderfest I had equal parts Granny Smith, Golden Delicious, and Braeburn.
· 2/3 cup white sugar
· 1/3 cup white sugar
· about 1/8 cup brown sugar
· 1/4 cup coconut oil OR shortening
· 1/4 tsp cinnamon (don't go much over this. It's much too easy to overdo it with cinnamon and you'll never notice until it's too late)
· 1/2 tsp fresh-shaved nutmeg OR 1/4 tsp ground nutmeg
(Nothing quite like freshly shaved nutmeg – if you're careful you can save the nuts to use over and over, too)
Filling Prep:
· Peel and then slice all of the apples one by one into the skillet until the apples just crest the edges. You want the slices to be about 1/2 x 1/4 inch, but don't make them all identical – some larger and some smaller is good. I'd recommend alternating sweet/tart apples to make sure you end up with an even consistency. I also recommend setting aside a bowl to keep the skins in so you can keep your workplace tidy.
· Sprinkle the 1/3 cup of sugar into the apples, then cover and let simmer on a stove on low heat for about ten minutes.
· Remove from heat, and scoop out the apples from the skillet into a separate bowl. Save this for later. Save the apple juice in the skillet!
· Turn the stove back on to low heat and add the 2/3 cup of sugar. You may have to add parts of the sugar as the sugar caramelizes instead of all at once. Stir constantly to keep the sugar from burning to the skillet, and remove from heat once all of the sugar is caramelized.
· Pour the caramel into the apples and lightly toss the apples with the cinnamon and nutmeg.
· Carefully rub brown sugar into the skillet to absorb any residue caramel and coat the skillet in brown sugar caramel. Set aside to cool a little (It's ok to be warm, but ideally shouldn't be too hot to touch for when we add the crust)
Now we make the crust. The bottom part goes in fairly easy once rolled out as the shortening in the crust is pretty forgiving. Roll out one of the crust halves until it is wider than the skillet plus double the wall height – you want the crust to fill all of the skillet so that the apples can't get out of the crust while baking. Make sure to flip the crust routinely while rolling and make sure there's always a thin dusting of flour under it. I normally also use the rolling pin to transfer the crust from the working surface to the skillet – just carefully roll the crust onto the pin, then unroll it onto the pan and gently mold and press it to the edges. If you crack the crust, gently rub the surface while pressing the edges together to get a seal – don't press hard or you'll make it too thin. Once the crust is in the skillet, use a knife to trim off any bits that stick over the top.
Now add the pie filling! Now is also a good time to start the oven preheat, as it should be up to temp by the time we're done with the top crust. Preheat the oven to 380F.
The top is quite a bit harder to do if you do it with a lattice like what I have shown, but I'll give you a little secret: Start with the middle pieces, use a rolling pin whenever possible for bending back bits to work on, and if things break, they're fine and you can re-mold them without re-rolling them. Also, broken strips aren't noticeable if the break is under another strip.
Sprinkle with a little bit of white sugar, and bake at 380F for an hour. The crust should change to a light golden color.
And that's it! Make sure to let it cool for at least an hour before serving, although it's probably best after about two hours. If you want to cook it later, the pie can be refrigerated without issue for two days or frozen for six months (although it won't taste as good after freezing it). If you freeze it, add about 30 minutes to the bake time. After baking, the pie will keep pretty well for about a week if kept covered and refrigerated, or about ten minutes if left uncovered on my kitchen table. *poof* gone.
Seriously, transcribing my notes into a blog made me hungry for pie.
Happy baking!
Featured in the Facet Newsletter for July of 2020.
Most Important Features of Computer Repair Software
Much like anti-virus solutions, computer repair software is now considered a staple to keeping your computer running without any issues. As such, many organizations use a combination of both to keep their operations in motion. But with the plethora of choices that are currently available, it is difficult to determine the best repair software to go with. As such, here is a list of the most important features that you should look for in a computer repair software. Having them as part of your repair solutions would make your life a tad bit easier.
Find a Solution That Runs Full System Diagnostics
The most efficient repair software solutions come with the ability to run full system diagnostics. Through this ability, they can determine problem areas with one scan. This lets you know exactly what is wrong with your computer. In turn, this allows you to make targeted fixes instead of having to run multiple scans with different software. Components. These kinds of computer repair solutions save time and resources, and help you fix your computer in an effective manner.
Make Sure It Works to Improve Boot Time
One of the most common problems that most people face in their professional or personal setting is the amount of time that their computer takes to start. The same machine that once took a couple of seconds to start now takes a few minutes, and this also translates to the way that the computer performs other tasks. It doesn't only add to frustration but could also lead to a host of other problems. A repair software that targets this problem is thus considered an in-demand solution. And it's something that could be appreciated by you or your employees.
Ensure That It Can Remove Spyware and Adware
Apart from viruses, spyware and adware are the most common issues that affect a computer's performance. As such, make sure that your repair software could not only detect these programs but also help you remove them in a proper manner. This allows you to get rid of malicious programs that have proven difficult to uninstall. It improves your computer's overall performance and keeps it safe from malicious parties.
Prioritize by Importance
As defined above, computer repair software programs perform targeted checks on computers, which could be determined by checking their features. However, you need to make sure that they are not just coming with a bunch of updates and features, but with targeted services that you need. For instance, if your computer is lagging with delayed boot time, then you need a repair software that specializes in resolving that issue. If your computer is lagging in performance, then the repair software needs to figure out what's the issue behind it and solve it. And if your computer is currently suffering by a program that won't just uninstall, then the repair software needs to address that. All in all, the most important features of a repair software depend upon what you require. Make sure to keep this in mind while you make the selection for your repair software.
Top 5 Benefits of Wireless Networking
Are you looking for a seamless way to connect your networking infrastructure? Here are 5 benefits of wireless networking that prove It's a perfect fit for you.
When wireless networking was first introduced to the world, it seemed like a luxury that only a small niche of people would require. Some designated it as just another way for the Internet to take over our lives. Others were skeptical of connectivity speeds.
A few saw potential in the technology and understood how it would become a necessity in the future, which it has today.
Today, wireless networking has become one of those technologies that you cannot live without, whether you are a student or a stay-at-home parent, a wealthy entrepreneur or a starting level executive. You need your Wi-Fi and your network support to perform your daily functions.
That is why cities such as Peoria, IL have their own credible service providers such as Facet Tech that setup these wireless networks for those who need them.
What are Wireless Networks?
As mentioned above, when you ask people about some of the things they cannot live without, one of the answers seems to be "Wi-Fi."And that Wi-Fi needs wireless networking infrastructure to be set up properly. Whether you are using Wi-Fi at home or at your workplace, it is all powered through wireless networks.
When a wireless network is set up in an optimal manner, it can provide you with more benefits than just connecting you to the internet without any cables. This is especially true in the case of a workplace.
As such, it is important to reach out to credible professionals like Facet Tech that would take care of this process for you. Optimal work environments help enhance productivity and this is now a staple of the modern-day work environment.
What are the Benefits of Wireless Networking?
Apart from the obvious benefit of connecting to the internet wirelessly, here are the top 5 benefits of wireless networking. Knowing about them helps you understand the advantages of wireless networks that we usually take for granted.
1. You Can Connect Multiple Devices to the Internet
In today's day and age, it is important that all of your devices are internet friendly. That is why Wi-Fi is no longer a luxury feature for mobile devices–it is a necessity.
Having a proper wireless network at your premises helps you connect multiple devices at once. That is all without the burden of paying mobile data charges.
2. You Don't Have to Be Constrained at a Single Location
Gone are the days when you had to open IT tickets for network support just to set up an internet connection in your conference room. With wireless networking, you could simply take your laptop or your tablets wherever you want and still stay connected to the world.
3. You Can Make Use of Wireless Printing
Just like Wi-Fi, wireless printing is not a new technology. But the benefits that it brings to the table are still as advantageous as the day of its launch.
Instead of having a printer installed over every other desk, you could simply connect a central printer to multiple employees at once. This helps you save costs on your equipment spend.
4. You Can Benefit from Cloud Storage
With cloud storage, you can store virtually unlimited data over the Internet. And instead of flash drives, you always have that accessible at all times as long as you have an internet connection.
If your wireless networking is set up with your central data storage or a cloud drive, you can easily take advantage of this innovation.
5. You Can Provide Internet Connectivity to Guests
When you have a wireless network that is properly set up, any professionals that you host over meetings could have internet connectivity as well.
This saves you and them the time and the awkward internet cable installations that were once attributed to guest visits. Instead of having your network support take care of your guest devices, they could focus on internal infrastructure and ensure that you always have connectivity.
Consult with partners like Facet Tech to provide you with the support you need to enhance your work environment today.
5 Best Data Loss Prevention Tools
Securing the delivery of precious data is one of the most crucial requirements that organizations have to meet in today's day and age.
Why wouldn't it be?
Whether it is financial information or business plans, proprietary software or customer details, safeguarding data is the core of any business' foundation. Any unauthorized delivery of information to undesignated entities could threaten the very operation of a business – and the safety of all its stakeholders.
That's Where Data Loss Prevention Tools Come In

Keeping the threats in mind, firms all around the world make it a point to safeguard their data any way that they could. They make use of data loss prevention (DLP) tools. DLPs ensure that data is heavily protected while being transferred between end users. This makes sure that no malicious entity can get their hands on the information being exchanged between authorized entities. If you want to make sure that you are not exposing your data to unauthorized users during delivery, utilizing the following data loss prevention tools could be quite helpful. Tried and tested for efficiency, these DLP tools would help you steer clear of unwanted data exposition incidents. Without further ado, here are the top 5 DLP tools to help you with your day to day data handling tasks.
1. Symantec Data Loss Prevention
Considered by many as the industry's leading DLP solution, Symantec DLP comprises of multiple processes that ensure data protection during the delivery process. It is compatible with the cloud, which adds to its adaptability to a host of storage solutions. With it, it also remains highly functional for large scale enterprises with its management features. With a great support staff behind the solution, it remains the top choice for many.
2. McAfee Data Loss Prevention
This is yet another DLP that has been adopted by large scale enterprises for their day to day processes. Carrying the assurance of a big brand name and the efficiency of a highly secure solution, McAfee DLP does what it is supposed to do for data loss prevention with quite aplomb. With cloud compatibility and several data management capabilities, McAfee DLP could prove to be the solution you are looking for.
3. Forcepoint Data Loss Prevention
While it comes from a relatively unknown name when compared to the giant brands mentioned above, Forcepoint DLP has been garnering attention among the business and enterprise sector. Much of it is well deserved. The solution works with exceptional data management systems across multiple devices. It also assesses the riskiest delivery channels, so you could identify them before it gets too late. And to sweeten the deal, it comes with cloud compatibility to boot.
4. Digital Guardian DLP
Another obscure yet highly functional solution, the Digital Guardian DLP is another solution that helps against data loss to a large extent. It comes purpose-built for cloud delivery, and has impressive features in place for ensuring data security from point A to point B. It comes with multiple data management and assessment features and sets in comfortably with enterprise solutions.
5. GTB Technologies DLP
Another underrated star in the DLP sector, the GTB Technologies DLP is being used by several corporations as their go to solution. That comes due to the software's capabilities of being able to work with cloud technology, being adaptable to enterprise functions, and being able to assess and manage data with a host of functions. It is considered as one of the fastest growing DLP solutions in the market and is being adopted by companies from different sectors. The best way to choose a DLP is by speaking with an expert. This ensures that no data loss is being occurred through your firm while assessing its specific requirements, current capabilities and shortcomings. If you have a proficient data management team, then they would be the best people to suggest which solutions to go with. Otherwise, you could reach out to a reputable IT consulting firm who would be able to guide you through the process. But if you are one to make decisions on your own, then one of these DLPs would provide to be the perfect solution for your firm.
Do These 3 Things Before Taking Your Computer In for Repair
If you're experiencing computer issues that require more than a quick fix, don't panic! A reputable computer repair shop will likely be able to give your computer the TLC it needs to get back to its original condition in as little time as possible. Before you bring your computer in for repair, however, it's important to make sure you have taken the necessary precautions to ensure that all of the data you store on it is safe and protected. Here are three steps to take prior to bringing your computer to a repair technician.
Be Choosy
Let's face it- your computer is one of the most important things you own. After all, it not only helps you work and communicate, but provides storage for important documents, photos, and other valuable files that you can't risk losing. A simple online search will give you the names of dozens of computer repair shops in your area, but not all of them are created equal. For something as important as your computer, it's worth your while to do your homework to make sure you're selecting a reputable, trustworthy repair center. Read online reviews, get recommendations from friends and colleagues, and don't be shy about asking questions prior to getting your computer repair work done. It pays to be selective!
Back It Up
Before bringing your computer in for repair, make sure to back up all the important files, photos, and other data that is stored on your hard drive. This helps ensure that you are protected against any data loss that may be impossible for your computer repair technician to avoid. In general, it's a good practice to back your data up often so that you don't risk losing anything you need. You can either back up data on an external hard drive or thumb drive, or you can look into cloud storage options.
Protect Yourself
Make sure to encrypt or simply remove any files that contain sensitive personal information, including account numbers, passwords, or your Social Security number. Regardless of how trustworthy your computer repair center is, it's always best to make sure that no confidential information falls into the wrong hands.
The experts at Facet Tech are here to provide comprehensive computer repair for virtually any issue you may be experiencing. We pride ourselves on quality repair with outstanding results! We proudly serve clients in and around the Pekin and Peoria, IL areas, and are dedicated to helping you solve even the most complex computer issues! Call us today at 309-353-4727 to speak with one of our computer repair professionals.